UNESCO COOPERATION
26 October 2023
Gdynia at the opening of the National Center of Film Culture in Łódź
On the occasion of the opening of the National Center of Film Culture, we had the pleasure to visit Łódź - our sister city within the UNESCO Creative Cities Network. Alongside the Gdynia delegation, representatives from Galway, Ireland; Potsdam, Germany; Sarajevo, Bosnia; Terrassa and Valladolid, Spain; and Katowice, Poland, visited Łódź.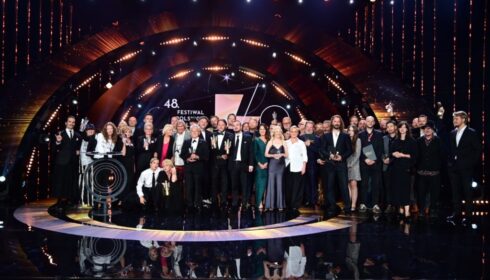 POLISH FILM FESTIVAL
25 September 2023
The Winners of the 48th Gdynia Polish Film Festival announced
On September 23, 2023, at the gala in the Musical Theatre in Gdynia, we learned about the winners of this year's awards at the 48th Gdynia Polish Film Festival. The film "Kos" (dir. Paweł Maślona) received the Golden Lions, while the Silver Lions went to "Imago" (dir. Olga Chajdas). The Platinum Lions, awarded for the overall contribution to creativity, were received by the production designer Allan Starski.